Guaranteed to Grow Instant Turf Supplies – Looking for an Instant Turf Supplies in Newcastle, Port Stephens, Lake Macquarie or the Hunter Valley? Then, look no further. Being a leading instant turf supplier, we supply and lay affordable turf that you can be proud of.
Eturf offers services such as preparation, supply and installation of a variety of instant turf. With such a wide variety of services available to customers, one needs to look no further than this one-stop turf shop.
We can cater to all your turf needs – whether it is to supply turf only or you require the area to be fully prepared and laid. Our expert team will prepare the area to your requirements, fertilise, supply and lay the turf of your choice. We will advise you on the lawn most suitable to your needs and lifestyle.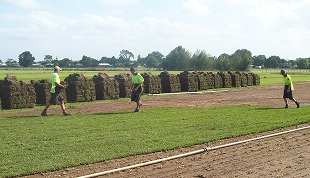 As a grower of instant turf we have a reputation for delivering quality affordable instant turf throughout Newcastle, Lake Macquarie, Port Stephens, Maitland, Cessnock, Singleton, Central Coast and surrounding suburbs. . Whether you are looking for buffalo turf, couch or kikuyu, turf delivery, turf laying or lawn preparation, you can make an online enquiry or call us now on 49 300 100.
If you are looking for an instant turf supplier that delivers, we offer a Free forklift unloading service, make an online enquiry about instant turf now.
To get the best rates for Instant Turf Supplies, kindly fill out our online form and receive an Online Quote Now or call Eturf on 49 300 100.